Quickie Q7 Discontinued 06-30-21
The Quickie Q7 ultralight rigid wheelchair with 7000 Series Aluminum and ShapeLoc Technology is shifting the axis of today's mobility world creating the ultimate in a light-weight wheelchair. Packed with more performance and lifestyle options than ever, the Q7's leading design and exciting new colors will have everyone saying, "I Want Q7!" Q7...lighter weight, lighter price.
The Hydroformed Caster Housing creates a unique, streamlined shape and form without compromising adjustability or weight. Featuring the exclusive 4 link rear suspension with a live axle and independent coil spring system. Allowing a smoother, stable ride over a variety of terrain. The new caster bolt design uses indexed sleeves and a captured bolt that effortlessly align. It only requires tightening on one side.
New backrest options include telescoping push handles that provide infinite height adjustability and Ballistic Nylon or 3DX Spacer Fabric upholstery. The new angle adjustable flip back footplate makes transferring easy! With the ability to flip your footplate behind the down tubes, you can easily transition to the floor. The footplate adjusts from 0 to 108.
The Q7 is the best performing rigid wheelchair in the market today!
---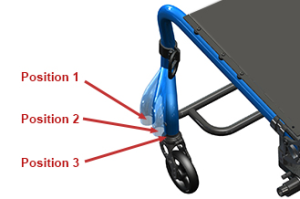 Choice Of Caster Position
Q7 offers the user the option to choose the caster position. Offering narrower performance or wider stability.
---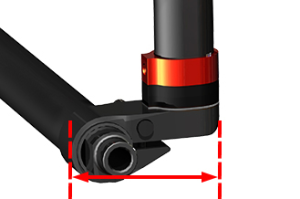 Center Of Gravity
Q7 center-of-gravity adjustment system is now available in two adjustment ranges: 0" to 3" and 1" to 4" in front of the backrest. The new 0" to 3" option is helpful for newer users who are less familiar with their chair's balance point. Both options are available at no-charge.
---
Q7 Enhanced Armrest Mounting
The new Padded Swing Away Armrest receivers now have thicker walls and feature a new positioning bolt made with H1150 conditioned hardened steel. This combination significantly increases the amount of load that can be placed on each armrest.