The Zippie TS wheelchair has a new look! The Zippie TS now folds. Like its cousin, the Zippie GS, the new Zippie TS features built-in frame expansion, both rigid and folding frames, the new Z-lock hub and all of the latest in pediatric accessories. With the full array of Quickie wheel and color options the Zippie TS sets itself apart as the industry leader.
With the latest technology and leading designs, Zippie offers a single source pediatric solution by providing the broadest possible option-set making it easier to meet the user's clinical needs. Angle adjustable push handle has a full range of motion both up and down 260 degrees for the ability to push the chair in a comfortable position.
The Zippie TS offers the aesthetically pleasing Quickie style height adjustable armrests featuring a contoured armpad as well as a standard or low mount receiver. The triggers provide a larger surface for all dexterity needs. Swing-in/Swing-Out Footrests are excellent for confined spaces and are ideal for reduced hand dexterity.
The Zippie TS features a 45 tilting seat frame. This is an ideal system for pediatric patients who require multiple tilt angles for pressure relief, digestion and fixed seat positions. Flared front frames make caster interference with long 90 footrests a thing of the past. Front caster housings can be easily be mounted in a forward or reverse position to adjust the wheel base without the possibility of hitting the footplates
Shown here with optional seating and other accessories.
Please contact us to assist you.
---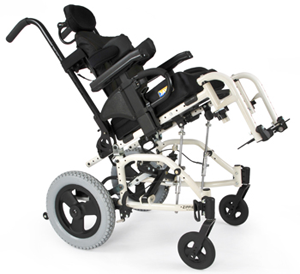 45° Traditional Tilt
Simply the premier pediatric tilt wheelchair. 45 degrees of tilt and can accommodate most any type ot custom seating system. Small foot print and folding option make the Zippie TS Tilt the chair of choice.
---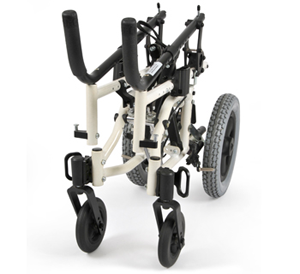 Folding and Rigid Frame Options
Rigid frame option offers lower overall wheelchair weight, while the folding frame offers greater ease in transport. Choose the frame style to fit your lifestyle needs.
---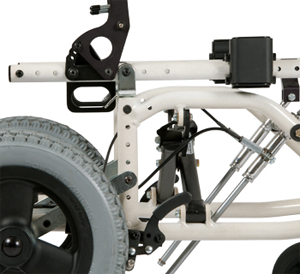 Growth Built-in
Zippie TS has up to 2" of seat width and up to 5" of seat depth adjustments allowing the TS to grow, while adjustable components allow comfort and proper positioning during growth.