Wheelchair Arm Tray - Flip Away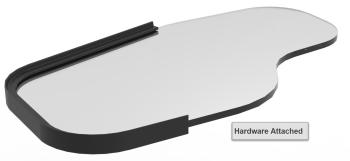 Wheelchair Half Trays are transparent, 3/8" thick break-resistant polycarbonate. Available for left or right side, with a Flip-Away bracket pre-attached.
A black PVC Rim keeps items from rolling or sliding off the tray.
Heavy duty moisture resistant tray for institutional or long term care. Trays slide on from the front, and can flip up and out to the side for easy wheelchair transfer...