Molift Air overhead lift motors are smooth, quiet, and provide gentle patient transfers with ease and comfort. The 4 point sling suspension provides a more comfortable and stable lift. The Air provides an economical and sensible alternative to a conventional ceiling patient lift installation. Ideal for in home overhead patient lift use.
Combined with the Molift Rail System Duo, the Molift Air solves all lifting situations in health care and other patient handling environments.
The free standing frame design is stable and easy to assemble and adjust. Available in four widths the overhead lift can accommodate most patient room lifting tasks.
The lifting motor glides effortlessly across the entire width of the gantry allowing complete caregiver control and is less disruptive to the patient.
---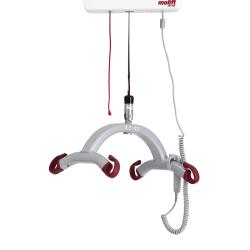 A large lifting interval
With its standard 3 meters lifting strap Molift Air has one of the largest standard lifting intervals on the market
---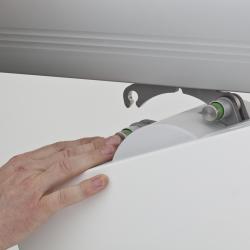 Easy to install
Service and maintenance are easy due to the innovative quick release function.
---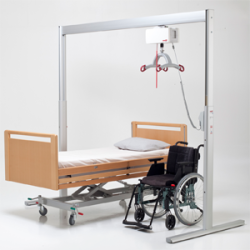 Easy Set-Up and Operation
Molift Duo utilizes two adjustable height uprights and one of four fixed width gantry rails.
A Motorized lifting head attaches to a rolling trolley that allows the lift head to glide horizontally into the desired lifting position.
---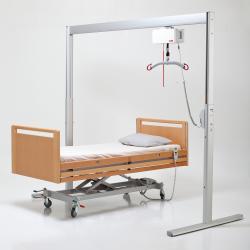 Molift Duo Supreme Stability
The overhead gantry system has supreme stability and a functional design.
Molift Duo is a free standing design that affords a wide variety of patient lifting applications.
Most commonly used applications are patient transfers from hospital bed to wheelchair or shower chair. Of course there are many other lift situations that Molift Duo Overhead Lift could easily be accommodated.
---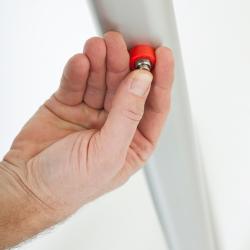 Adjustable Height
Height positions can be set at four fixed positions from 88.6" up to 100.4". Adjust the height with the quick release pin makes height adjustment easy.
---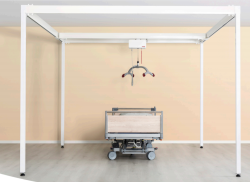 Freestanding Freedom
Molift Quattro is a freestanding hoist unit that offers a (four post) Traverse System which is the best solution for temporary hoisting needs or when the facility is not built for fixed installations. The gantry is easy to install without the need to mount additional fixtures on walls or ceilings. It is ideally suited for temporary hoist applications in nursing or private homes.