Raz Design RAZ-AT Tilt Rehab Shower Commode Chair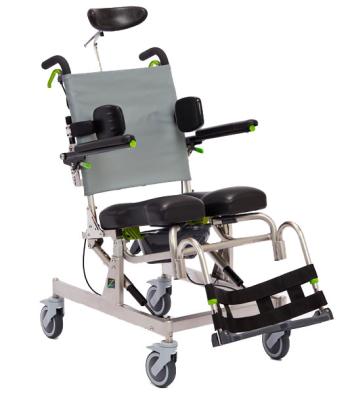 Manufacturer:
RAZ Design
Part Number:
Z300
Retail Price:
$2,995.00
Price:

$2,695

Ea
Configure & BUY
The RAZ Design RAZ-AT tilting shower commode chair tilts up to 40 degrees to provide extra pressure reduction and user comfort. The unique frame design utilizes lockable gas springs that help lift the seat to an upright sitting position, making the RAZ-AT one of the easiest tilting rehab shower chairs to operate.
The RAZ-AT rehab shower chair comes standard with the Ischial & Pelvic Alignment Seat (IPAS), 4 inch seat height adjustment, adjustable-tension back upholstery, molded headrest and fixture, 4 dual-locking casters, flip-up padded arm rests and elongated commode pan...