Introducing the ERGO family of shower chairs. A flexible range of options that offer personal care solutions for a wide range of physical conditions.
The ERGO XL and ERGO SP XL are heavy duty versions of their original. These chairs have a wider backrest and reinforced arms to help ensure safe transfers. These chairs also have a larger weight capacity. The ERGO has a new and more ergonomic design that encourages a more upright and stable seating position. For a standard model or additional tilt options, check out the other models in the ERGO family.
The seat plate has a 5 degree pre-tilt or lift at the knee for a more natural, squat position when using the toilet. A new shape for the seat plate is based on the imprint left behind while seated. This reduces pressure on genitals and bony prominences. Transfer supports at front of seat allows the user to position themselves into a more comfortable position for toileting and/or showering.
All ERGO shower chairs are made from corrosion-free, stainless steel. An improved caster design reduces dirt collection in the axle area. The collection pan rail holds the pan closer to avoid splatters. the pan has volume markings inside and a convenient hook on the handle holds the lid when not in use.
The ERGO is adjustable. The seat height, armrests, and footrests can be adjusted to your comfort level. Each foot plate has adjustable fabric heel loops and plate itself is angle adjustable.
The machine-washable, coated-nylon upholstery has multiple straps to adjust for tautness or more slack to increase seat depth. This chair can be disassembled for travel or storage.
The ERGO line has many accessories to enhance the features of the chair, including optional seat overlays, positioning laterals, belts, calf supports, back supports and comfort back upholstery. We've made the most popular accessories available below, but a more complete list of accessories is available in the ERGO Accessories and Adjustments brochure. If you'd like to add an accessory that isn't listed below, please contact our customer service to order.
---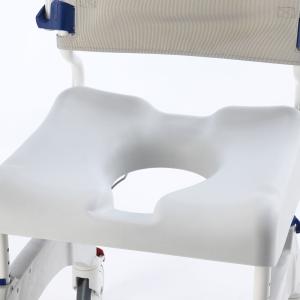 New Contoured, Ergonomic Seat Plate
A 5 seat tilt lifts the knees into a natural squat position for toileting.
Transfer supports at the front to allow the user to position themselves into a comfortable position
---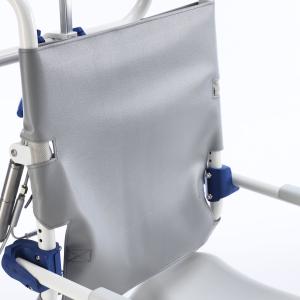 Greater Adaptability
With an increased height adjustment range on the footrests and armrests. ERGO seat is height adjustable from 18.5" - 23.4", armrests can be adjusted from 8.3"/9.8"/11.3" from seat. Footrests are height adjustable 12.4-18.2" from seat.
---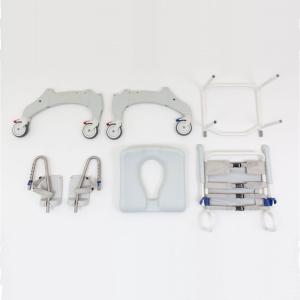 Compact and Easy to Handle
Optimized wheel base makes it easy to maneuver in small spaces. Improved caster design reduces dirt collection in the axle area. Chair can be disassembled for travel or storage.
---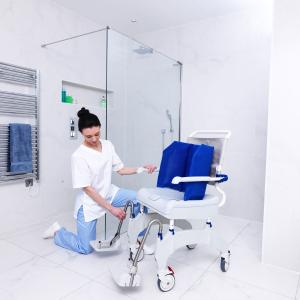 Highly Configurable
Available with a extensive range of positioning, safety, toileting and seating accessories that can be used to support a wide range of conditions and postural needs.