The Quickie QM-720 custom power wheelchair is the high performance version of the popular Quickie QM-710. Designed for active users who cover long distances on a regular basis, the QM-720 is outfitted with a fast 8 mph motor package. It also includes all the key components found on the Quickie QM-710, such as SpiderTrac Suspension, an intuitive mid-wheel drive base, and PG Drives electronics. This combination of speed and proven performance provides users with the confidence to drive forward and live without limits.
As the name suggests, SpiderTrac Suspension features independent suspension on all 6 wheels. This independence helps each wheel to maintain constant contact with the ground. The design also optimizes the articulation range of the front and rear casters to give the chair a spider-like ability to crawl onto and over steep transitions without compromising user stability.
"Assignable buttons" is an exclusive feature to PG Drives (R-net electronics) and Quickie Wheelchairs that lets dealers, clinicians, and technicians assign commonly used functions such as tilt-up, tilt-down, legrests-up, legrests-down, etc. to many of the available buttons and ports on the joystick. Users can simply punch a buddy button or similar device to accomplish a menu-function input without wading through a maze of menu selections.
The R-net electronic controls on the QM-720 provide simple programming options with outstanding reliability. They feature optional color screens and the ability to add optional specialized inputs such as chin control, sip-n-puff control, and various head array systems. R-net electronics also offer some unique programming profiles that provide the ability to mix proportional and non-proportional controls on one chair. Many of the R-net control buttons can be assigned customized functions.
Mid-wheel drive chairs are the most intuitive and maneuverable power chairs in the market because the center-of-rotation is located directly beneath the user. The QM-720 utilizes this mid-wheel drive technology along with a robust suspension package to easily navigate confined indoor spaces and more rugged, uneven outdoor environments. It's the best of both worlds. The QM-720 offers 5 different base colors to suit your style: Candy Apple Red, High Gloss Black, Candy Blue, Silver, and Copper.
---
SpiderTrac 2.0 Suspension System
For superior traction and handling, SpiderTrac features independent movement of all six wheels. Optimized articulation of the front and rear wheels give the QM-7 Series chairs the ability to crawl up and down steep obstacles with enhanced stability and comfort. The new SpiderTrac 2.0 incorporates two additional performance springs that provide an even better intuitive response. These springs help all six wheels maintain increased contact with the ground when moving onto or off of ramps and curbs. SpiderTrac 2.0 simply must be experienced to be believed!
---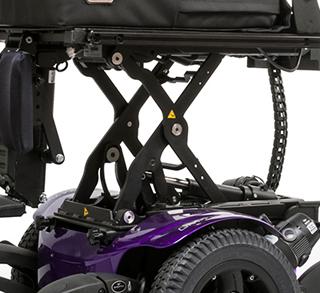 9" Seat Elevate and Ultra Low Seat Heights
The QM-7 combines the industry's highest Power Seat Elevate with Quickie's lowest ever seat heights, making everything at home and work within your reach. The QM-7's impressive 9" Power Seat Elevate allows you to interact with peers at eye-level and independently access tall shelves and cabinets. When ordered with tilt, recline, and elevate, the QM-7 can still achieve a seat height as low as 16", so you can pull up to tables and desks even when using a thicker cushion.
---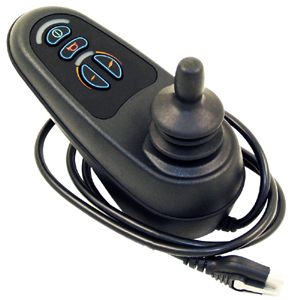 R-Net Electronics and Controls
QM710 utilizes the R-Net electronics packages which are the industries most reliable and durable control systems. Various configurations are available including the ability to operate power seating function through the joystick.