The new Quickie Q500 M base balances superb indoor maneuverability with outstanding performance and head-turning style
Mid-wheel drive power chairs offer unmatched maneuverability with a smaller footprint than rear- or front-wheel drives. The Q500 M allows for the most compact turning radius provides great maneuverability and is extremely intuitive to drive and control. All Q500 M bases come with Occupied Transit tie-down brackets as standard, no charge feature.
Its ultra-reliable motor can power you at speeds up to 6 mph and the Group 34 batteries maximize your range (up to 14 miles),so you can always travel with confidence. With Quickies patented all-wheel suspension system that features six independently suspended wheels, you will always get the smooth ride you're looking for - even over uneven terrain. The Q500 M allows you can easily transfer in and out and effortlessly access vehicles and under tables with the lower than ever before seat-to-floor heights
This Quickie Q500 M comes with a Captain's Seat that provides a relaxed sitting position and features a semi-recline, fold-down back, adjustable seat size, and convertible seat pan that allows you to use your preferred cushion. Captains Seat is available in 16,18, and 20" widths. ( 16" or 18" depth ). Flip back armrests are adjustable in height and also flip back for ease or transfers or simply to get closer to tables.
The Q500 M has to offer along with the quality you've come to expect from Quickie.
---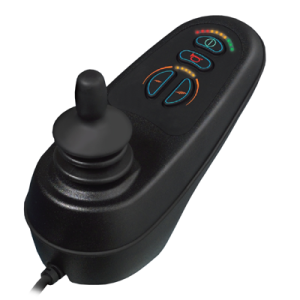 PDG VR2 Electronics
The VR2 wheelchair control systems are the industry staple of ease of use and durable long lasting quality.
Simply put; durable, easy to use and reliable.
---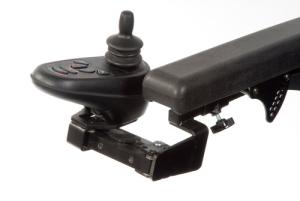 Swing Away Joystick
Standard Swing away joystick mount is effortless to move aside to get closer to tables and counters.
---