The SMOOV one is the perfect power assist designed for active wheelchair users. Thanks to its discreet drive and control unit brackets, your wheelchair can still be used manually: simply dock and undock.
With a range of up to 12 miles, this unique drive unit gets you to your destination in style. You can easily charge the battery from any outlet.
With a maximum speed of 6 mph, the SMOOV is your adaptable everyday companion. You can even drive over curbs and edges thanks to the flexible wheel and the 360 degree swivel fork.
The SMOOV can take you to the places that once seemed beyond reach. It can be relied on to handle some of the most difficult terrains. Even hills and slopes of up to 16% are no problem with the SMOOV.
---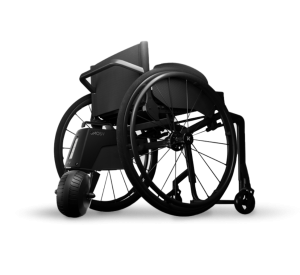 Powerful and long-lasting
With a range of up to 12 miles, the SMOOV ones powerful motor can handle up to 310 lbs and get you to your destination stress free. The SMOOV one features an integrated lithium ion battery pack. Keeping the battery charged is also easy. Use the easy-connect, magnetic charger and just plug the cord into a standard outlet.
---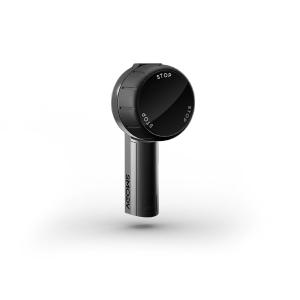 Power, control & performance at your fingertips
The control unit is designed to provide you with on-demand power. With it, you can effortlessly turn it on, adjust the speed, or turn it off at any time with just a tap. You can also keep track of the remaining battery life of the control unit and your SMOOV one on the display. The control unit can be mounted on either the left or right side.
---
Safe on all types of terrain and surfaces
Whether you use the SMOOV on gravel, wet roads, or a smooth floor, the tire treads along with the innovative drive system help you reach your destination safely.
Even in the dark, feel safe with SMOOV one thanks to its integrated LED light.
---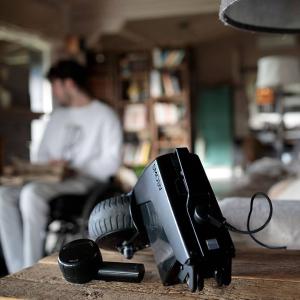 Portable and compact
With SMOOV one, the dream of an exciting city trip becomes a reality. Use the SMOOV one on your travels to catch more of the sites during the day and still have plenty of energy at night.
Since the SMOOV is easy to mount and store, its convenient to take it on your next bus, train, car, or plane ride.
---
SMOOV mobility app
Amplify your ride. Connect your SMOOV one to your iOS or Android device for free. The app lets you adjust your driving mode and settings on the fly while keeping an eye on your battery life, range, speed, trips, and more.
Upgrade to make your ride easier with easyNavi, the apps paid navigation feature provides you with the most wheelchair-friendly route to your destination.