The Breezy Elegance Gold ultra light wheelchair is the most popular of the Elegance wheelchair line. Offering the most desired options at the most economical price. Inspired by European design, Breezy Elegance Gold ultra lightweight frame and enhanced adjustability provides optimal user comfort and caregiver ease of use.
The Breezy Elegance Gold builds on the features of the Silver wheelchair with added shoulder tension reduction, caregiver hand brakes, and the Jay Basic Pro wheelchair cushion.
---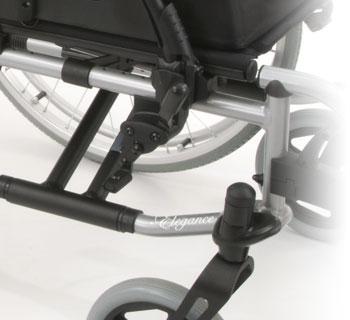 Frame Designed for Comfort and Convenience

The Elegance Gold's ultra lightweight frame was designed for personalized comfort and function. Customizable seat heights allow the seat to be lowered for foot propulsion, if necessary. Quick-release wheels may be removed from the frame for storage or transport, and wheel locks are easily accessed at the front of the frame to prevent the wheelchair from rolling forward or backward.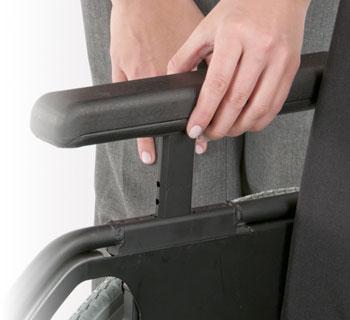 Adjustability for User and Caregiver Comfort
The Elegance Gold's height adjustable armrests help to reduce shoulder tension by providing a personalized fit. They conveniently flip back, allowing you to transfer in and out of the wheelchair with ease.
Height adjustable push handles allow caregivers to confidently push the wheelchair from a position that is comfortable for them. An integrated drum braking system, operated by locking brake levers located at the push handles, provide the caregiver with maximum control, security, and convenience when descending or pausing on a slope without having to reach for the wheel locks.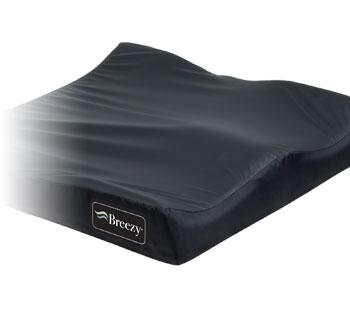 GOLD Seating: Contoured Plush Cushion & Tension Adjustable Backrest

The Elegance Gold features a contoured plush cushion and tension adjustable backrest for sitting comfort and postural support. The contoured cushion provides moderate side to side support and its durable foam offers superior quality over time. The tension adjustable backrests' three Hook and Loop straps may be adjusted and shaped to fit each individual.