RGK Octane is constructed specifically for each individual user. The grade 9 titanium frame tubing and fasteners is extremely strong and incredibly ultralight weight. At only 3.8Kg (8.38 pounds) there is no other custom ultralight wheelchair that comes close.
Octane 1 1/4" tubing is stylish and strong, with a low profile cross brace for added stability. Each angle is made to your specifications to optimize fit, comfort and functional performance. The frame has built-in shock absorption that will virtually eliminate road vibration - which means your ride will be super-smooth and comfortable.
Due to the highly custom fit of this chair, you will need to have measurements taken by one of our trained professionals. By doing so your final chair will ensure proper posture and maximum comfort while minimizing the effort needed to propel. No other chair creates this level of user and chair compatibility. Please contact us to set up an appointment to start the process and get a custom quote.
---
Strength To Weight Ratio
RGK Octane Sub 4 is constructed with the highest strength Titanium available. The average weight of a titanium wheelchair is about 6.5 Kg, RGK Octane weighs in at only 3.85Kg. Sub 4 stands for "less then 4kgs".
Ultralight at only 3.8 Kgs (8.38 lbs) that's about 59% lighter than the competition.
---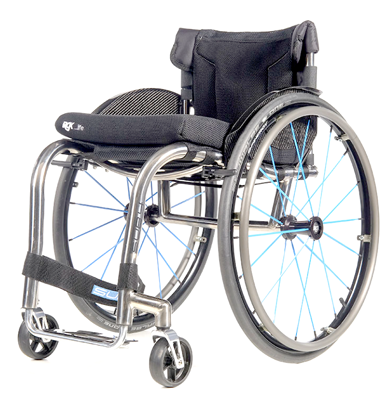 100% Custom Made For You
RGK Octane Sub 4 requires more than 30 individual measurements to ensure the absolute best fit for the user.
As a result, optimum posture, optimum comfort and maximized overall performance.
Not only is Octane Sub 4 made just for you, but an RGK Professional will measure, advise, deliver, and fit you chair.
---