The Quickie SR45 is the newest member of the acclaimed Quickie tilt-in-space family. It features 45 degrees of patented and proven rotation-in-space technology, a durable base and a streamlined targeted offering of key clinical options.
This wheelchair does not come with backrest or cushion, as shown in picture. The backrest, head support and cushion are sold separately. Contact us to help make the selection that is right for you.
The SR45 features a new low-profile Dual Post Armrest. The armrest receiver has a thin rectangular profile to reduce play and minimize wheel spacing. This armrest can be released by pulling up on a tongue release-lever or pulling back on a "Q" release-lever. The armrest can also be ordered with or without a front transfer bar. This versatility makes the SR45 Dual Post armrest a perfect fit for a rotation-in-space chair.
Cables getting in the way Not a problem with the SR45 foot release tilt actuator. It's easy to operate, clean as a whistle and tangle free.
The transit approved tie-downs on the SR45 feature a slim super strong wire-loop design. The loops are easy to see and easy to clip into.
The SR45 is outfitted with a new style of Quickie footrest hanger specifically designed to reduce hanger "play" - whether this is out of the box or after a year of hard use.
The new design also features an ergonomically optimized release lever that follows the natural motion used when releasing the hanger in either direction. A perfect choice for user's with minimal hand dexterity.
The SR45 tilt wheelchair axle is available in two styles: quick-release for optimum speed and chair transport, and threaded for applications where accidental axle-release by the user is a potential safety concern.
---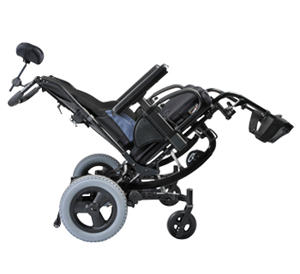 45 Degrees Of Rotational Tilt
Intelligent Rotation in Space technology means the seat frame rotates around the user's center of gravity. This results in a smooth tilting motion that is easy for you to control and allows for the shortest possible wheelbase that is easy for you to maneuver. The SR45 features up to 45 of posterior rotation for improved positioning.
---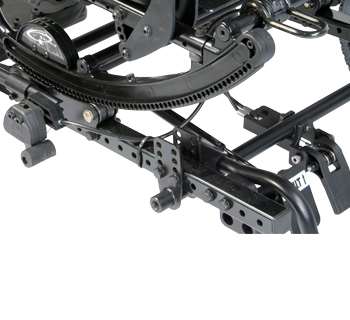 Durable and Mindful Design
The SR45 manual wheelchair is built to withstand heavy use over time. Having undergone rigorous durability testing at its 265 lb. weight capacity, you can be confident that the SR45 will last.