The Zippie Zone is a new, innovative pediatric rigid wheelchair suited for active kids and teens! The Zone delivers the lowest weight in pediatric wheelchairs with best in class growth options, all in a design that offers great ergonomics for optimal efficiency and independence. A few of the cool new options available on the Zone include a flip back footplate, side guards with built-in hub lock access and a flared frame with inset backrest.
The Zippie Zone features 2 new Hub Lock options. The first option uses separate triggers located under each seat rail. The second style offers a single side (unilateral) wheel lock lever built into either fender.
Lightweight wheels and aggressive camber can help with wheel access and user independence for young, active children. The Zone offers new Lite Spoke 20", 22", 24" rear wheel options as well as 0, 3 and 6 of camber.
Make a statement with one of 6 new standard paint frame colors now available. Choose from Copper, Fuschia, Glow in the Dark, Root beer, Silver, and Titanium. Looking for a more of a stylistic statement for your chair Try an anodized color package available in gold (new!),black, titanium grey, blue, green, purple or red.
Children with limited lower-leg range often have difficulty placing their feet in front of the footplate during transfers. The Zippie Zone offers a flip back angle adjustable footplate to meet these needs. By flipping the footplate behind the downtubes, these kids can more easily transition to the floor. The footplate adjusts from 0 to 108 to accommodate a variety of muscular skeletal positioning needs.
The Zone's hydroformed caster housing creates a unique, streamlined caster housing shape without compromising adjustability or weight.
To maximized performance, oval tubing is used in the frame, axle plate, and caster housing. Its superior vertical strength decreases frame flex and increases overall rigidity.
Zippie offers a comprehensive product portfolio. Look no further for a complete solution to your pediatric needs. Not only will you be able to find what you need in a chair, you can also bundle your order with a seating system.
---
Design Fit for Kids
Every inch of the Quickie Zippie Zone was designed to give kids the best possible wheel access for efficient propulsion. With features such as the inset backrest, flip-up, angle adjustable footrest, and hub lock located on the seat rail, kids are able to independently access the wheels, transfer in and out of the wheelchair, and access the wheel locks without interference during propulsion.
---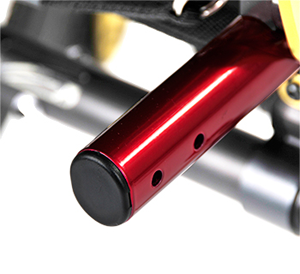 Ultra Light Aluminum
Zippie Zone is constructed from the lightest 7000 series aluminum. Light weight and super durable