Arthritis Kitchen Helper Kit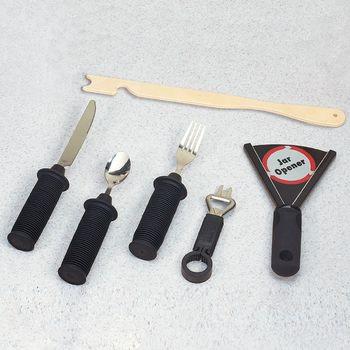 Manufacturer:
Patterson Medical
Part Number:
557151
Your Price:
Out of stock
This convenient kit is designed to assist people with hand arthritis and joint pain. It makes meal preparation and dining easier. All utensils feature a thick handle for a more comfortable and secure grip. Its a helpful set for seniors and a thoughtful gift for elderly parents or grandparents.
The kit includes:
Sure Hand Utensil - Knife (081000371)
Sure Hand Bendable Utensil - Teaspoon (081201177)
Sure Hand Bendable Utensil - Fork (081201185)
Push/Pull Helper (081014596)
Good Grips Non-Slip Jar Opener (081015262)
Multi Opener (081338300)
Latex free...